TAEKWON-DO GRADING SYLLABUS
TaeKwon-Do is the art of self defence founded by the Korean General named Choi Hong Hi. TaeKwon-Do was officially recognised on 11th April 1955 when General Choi after exhaustive researching, developing and experimentation proclaimed TaeKwon-Do, to the world, as a completely valid and unique martial art having a basic Korean origin.
Translated literally 'Tae' stands for jumping or flying, to kick or smash with the foot. 'Kwon' denotes the fist – chiefly to punch or destroy with the hand or fist. 'Do' means an art or way – the right way built and paved by saints and sages of the past.
TaeKwon-Do is a martial art that has no equal in either power or technique, which has been developed using the principles of modern science. It provides the practitioner with a fine weapon to defend him or herself. Used wrongly, TaeKwon-Do can be a lethal weapon, therefore mental training must always be stressed to prevent the student from misusing it and to promote a strong sense of justice, fortitude, humility and resolve.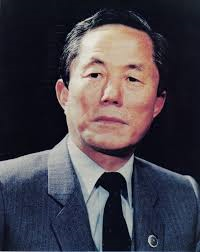 Grand Master General Choi Hong Hi 9th Degree
1918 – 2002
TENETS OF TAEKWON-DO
TaeKwon-Do aims to achieve:
Courtesy (Ye Ui)
Integrity (Yom Chi)
Perseverance (In Nae)
Self Control (Guk Gi)
Indomitable Spirit (Baekjul Boolgool)
TAEKWON-DO OATH
I will observe the Tenets of TaeKwon-Do
i will respect the instructor and seniors
i will never misuse TaeKwon-Do
I shall be a champion of freedom and justice
l shall build a more peaceful world
TRANSLATION OF COMMANDS
| | | | |
| --- | --- | --- | --- |
| ENGLISH | KOREAN | ENGLISH | KOREAN |
| Attention | Charyot | One | Hana |
| Bow | Kyong Ye | Two | Dool |
| Ready | Junbi | Three | Set |
| Start | Sijak | Four | Net |
| Stop | Guman | Five | Dasot |
| Return to Ready Posture | Pharo | Six | Yosot |
| At Ease | Swiyo | Seven | Ilgop |
| Turn Around | Dwiyo Dora | Eight | Yodul |
| Forwards | Nagagi | Nine | Ahup |
| Backwards | Duruogi | Ten | Yol |
| To the Left | Jaro | | |
| To the Right | Uro | | |
| Dismiss | Hae San | | |
STANCES
awaiting content
ATTACKING AND BLOCKING TOOLS
awaiting content
Sections of the Body
awaiting content
KICKING TOOLS
Offensive kicks
Front Snap Kick
Ball of the Foot, – Ap Kumchi

Instep – Baldung,

Knee – Moorup

Toes – Balkut

Side Piercing Kick
Footsword – Balkal
Turning Kick
Ball of the Foot – Ap KumchiInstep – Baldung

Knee – Moorup

Toes – Balkut

Back Piercing Kick
Footsword – Balkal
Reverse Turning Kick
Backheel  – Dwitchook
Reverse Hooking Kick
Backheel  – Dwitchook
Downward Kick
Backheel  – Dwitchook
Pressing Kick
Footsword – Balkal
Inward Vertical Kick
Reverse Footsword -Balkal dung
Outward Vertical Kick
Footsword – Balkal
Upward Kick
Knee – Moorup
Twisting Kick
Ball of the Foot, – Ap KumchiInstep – Baldung,

Knee – Moorup

Toes – Balkut
Defensive Kicks
| | |
| --- | --- |
| Side Checking Kick | Side Sole – Yop Bal Badak |
| Hooking Kick | Side Instep – Yop Baldung |
| Crescent Kick | Side Sole – Yop Bal Badak |
| Front Rising Kick | Ball of the Foot, – Ap Kumchi |
| Side Rising Kick | Footsword – Balkal |
HOW TO TIE YOUR BELT